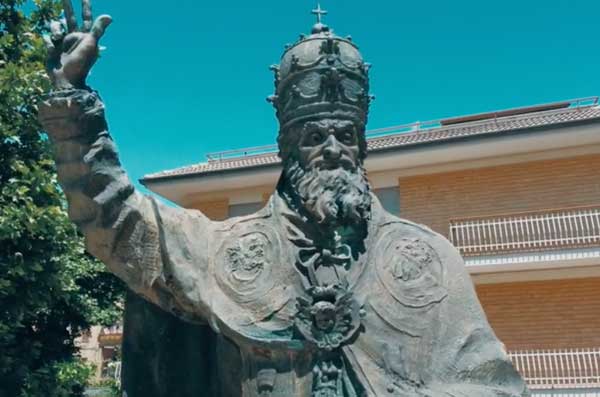 Sistus v and the Mint in Montalto delle Marche
Sistus v and the Mint in Montalto delle Marche
Sistus V, an energetic man and, later, was a Pope aware of his pastoral and political mission. He became Pope in a difficult and depressed socio-economic climate. Finance, the treasury and money represent the sectors in which the versatility of the Piceno Pope was most evident.
However, the attention shown towards the great works and the reorganization of a large part of the ecclesiastical system were supported by the Pope's marked spirituality. In fact, Sistus V was of the opinion that everything, even money, was devoted to the supreme purpose of the glory of Christ. The Sistine Sentence "an ecu in the bag does much more honour than a hundred that are spent in vain" is illuminating.
In his short pontificate, he did not fail to grace Montalto with extraordinary donations, including the establishment of the Mint.
He pursued his goals with vivacity and the socio-economic repercussions on citizenry were immediate.
The Mint, located in the old town, protected by the city walls and sheltered from raids by bandits, had a period of suspension due to the mediocre quality of the alloys and metals available, but then resumed and continued until spring of 1591. With the Pope's death, support for the maintenance of the Mint disappeared. TheMint was dismantled and the materials destined for new activities, as evidenced by a concise entry in the municipal accounts which reads: "…the workers who dismantled the mint room bring the stones to the Pistrino factory…". The Pope's deep bond with his homeland is also demonstrated by the concession of the contract of all the papal mints to Aloisi Innocenzo of Montalto, evidently a trustworthy and capable person.
On 17 June 2020, Prof. Emidio Grisostomi from Fermo, admirer and expert in the Montaltese Pope, donated to the citizenry a valuable numismatic collection that represents a unicum of the issues made in name of Pope Peretti, both in number and rarity. It consists of 101 elements, of which there are 68 coins (testons, piastres, ecus, baioccos, etc.) and 33 medals in gold, silver and other metals, minted in the Mints of Rome, Ancona, Bologna, Fano, Avignon, Macerata and Montalto.
Almost all the coins issued in Montalto show the bust of the Pope on the front and the representations of the Madonna; of the Saints Lorenzo and Apollonia; of S. Francesco receiving the stigmata; of the dove symbolizing the Holy Spirit and of the papal coat of arms on the other side.