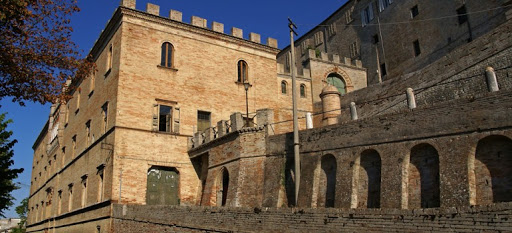 THE SACCONI FAMILY
THE SACCONI FAMILY
Tradition has itthat the the family – unsupported by proven document – is descended from the Tarlati from Pietramala, lords of Arezzo, with the progenitor Pietro known as the Saccone, so-called for having conquered and sacked Città di Castello. In reality, documents attest that the family comes from Villa Casale in Montegallo at the foot of Mount Vettore and the name of the family, originally a nickname, refers to the "sacconi", who were followers of the heretic Meco del Sacco from Ascoli Piceno.
In the first decades of the seventeenth century the Sacconi were permanently settled in Porchia. Many Sacconi held administrative and ecclesiastical posts: the archive documents testify to continuous activity and considerable economic initiative. Although currently the town no longer counts any descendants of the family among its residents, the memory of the Sacconi Counts remains alive in the area through various testimonies such as the toponymy, including the naming of public and private buildings, the epigraph affixed to the outside of the birthplace of Giuseppe Sacconi, and the monument dedicated to him in Piazza Umberto I. One of the most impressive buildings in the city, called Palazzo Sacconi, owes its name to the family. Among the Sacconi most deserving of attention, it is essential to mention Count Agostino Rosati-Sacconi, author of a copious volume that records the genealogy and the salient moments of his family events.
Also notable are Cardinal Carlo Sacconi, Cardinal and Archbishop, and his nephew Quintilio Sacconi. The latter, fascinated by the eloquence and knowledge of the Jesuit fathers, decided to become a miles Christi and, for all his life, he was "Abuna Sarufim", Father Serafino, among the villages of the rugged mountains of Lebanon and along the disputed territory of the Upper Galilee.